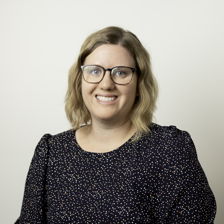 Angie Moe, MA, LLC
Phone: 616-426-9034, ext. 633
Email: amoe@secondstorycounseling.com


MA Clinical Mental Health Counseling - Aquinas College
BA Psychology - Grand Valley State University


Each person's story is unique and influenced by many different factors, some within our control and many outside of our control. Twists and turns in my own story have led me to pursuing counseling, and for that I am grateful. The following quote by Fred Rogers sums up why I am passionate about counseling: "Anything that is human is mentionable, and anything that is mentionable can be more manageable. When we can talk about our feelings, they become less overwhelming, less upsetting, and less scary. The people we trust with that important talk can help us know that we are not alone."
When I'm not working, I enjoy spending time with my family. I have been married for over ten years and have two sweet and spunky school age kids. I also enjoy spending time with friends, reading, swimming, drinking strong coffee, creating photo books, trying new restaurants, playing board games, or watching a good show.

My Approach
My goal is to journey with you in times of difficulty and in times of victory, while providing space for you to be yourself and feel supported. I believe the therapeutic relationship is the most important piece of therapy; therefore creating a safe, welcoming, and judgment free environment will be a priority. I am passionate about working with children and adolescents and believe developmentally appropriate intervention is a powerful tool to help youth process a wide range of emotions, concerns, and situations. I have several years of experience working in the hospital environment as a Certified Child Life Specialist. My education and experiences have taught me that children are not miniature adults, and therefore a different approach is required. When engaging with children, I will likely incorporate bibliotherapy, therapeutic play, and expressive arts along with talk therapy and other evidence-based interventions. Regardless of age or presenting concern, I see things through a trauma-informed lens.

What you can expect
You can expect our first couple of sessions to be spent getting to know each other, understanding the process of counseling, and discussing your goals and what you want counseling to look like. I value a collaborative approach, which means we will work together to make sense of the concern(s) that led you to seek therapy. The approaches I am most likely to use are person-centered therapy, narrative therapy, and cognitive behavioral therapy (CBT). I will also likely incorporate mindfulness and relaxation techniques. I hope to help you facilitate growth and empowerment in the face of life's challenges by offering empathy, support, and hope. Your story is valuable and important. It deserves to be heard and you deserve to have the tools and support to make it the best story possible.