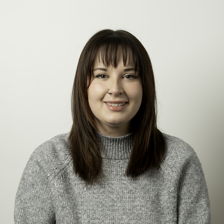 Kayla Droscha, MA, LLC
Phone: 616-426-9034, ext. 516
Email: kdroscha@secondstorycounseling.com


MA Counseling - Cornerstone University
BA Social Work - Calvin College


All of our stories are different.We have parts of our stories that are bright and beautiful, but we also have parts of our stories that are dark and painful. We may not have been able to control the things that have happened in our story but we can control how we respond and how we move forward.
We all struggle to navigate through this life. This life is confusing and stressful. I recognize that you are the expert of your life, you know yourself best. I aim to come alongside you not only through the warm seasons but most importantly the dark cold ones we often find ourselves in. When we are in a hard place it's difficult to recognize the strengths we have in order to dig ourselves out. I hope to help you discover your strengths and limitations as well as goals you have for yourself.
Outside of Second Story you will find me outdoors exploring new trails with my dog. I can be seen enjoying different foods around GR, writing poetry, reading a good book and playing new board games.

My Approach
Taking the first step to initiate counseling takes tremendous courage.
I recognize that counseling can be scary at times and opening yourself up to someone is no easy task.
It is my goal to meet you exactly where you are in life without judgement. I aim to provide a calming counseling environment that promotes safety in the midst of chaos. Whether you are working through anxiety, depression, identity crisis, trauma, grief, relationships or heartache; I would love to listen to your story and help you discover new ways to grow.
I approach counseling with an eclectic approach which includes person-centered therapy, cognitive-behavioral therapy, mindfulness and narrative therapy. I also have training in dealing with trauma.

What you can expect
My hope is to be invited into not just the wonderful parts of your life, but the tough ones as well.
Since all stories are unique the first couple sessions will be spent getting to know each other, discussing the counseling process as well as your expectations/concerns for counseling.
From there we will walk together through your life concerns. We will discuss your hopes and dreams and ways to achieve them. We will have honest conversations and explore new ways to heal. Our sessions are your time. A time that is dedicated to helping you become the person you were meant to be.