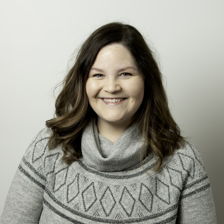 Christy Gage, MS, LLC
Phone: 616-426-9034, ext. 642
Email: cgage@secondstorycounseling.com


MS Clinical Mental Health Counseling - Post University
BS Human Services - Post University


My story has instilled in me the notion that no one should walk through life alone. Everyone encounters struggles and challenges, but should not have to carry the weight of this on their own. I am passionate about helping others navigate through the challenges of their lives, offering compassion and collaboration to work towards implementing positive changes in one's life.
When I'm not working or completing schoolwork, I enjoy spending time with my nieces and nephew. I also spend my free time reading, watching movies, and getting cuddles from my very spoiled shih tzu.

My Approach
Since I embrace the uniqueness found in each individual, my approach will incorporate different therapeutic techniques to best fit the needs of each client. I have some prior experience in trauma-focused CBT and also employ the person-centered approach. I have always been passionate about working with children and adolescents and employ a blend of developmentally appropriate interventions to assist younger clients with processing their emotions and feelings in a healthy manner. I will utilize a blend of talk therapy, therapeutic play, and expressive arts in combination with evidence-based practices. Mindfulness and relaxation techniques will also be utilized as positive coping mechanisms.

What you can expect
During the first few sessions, you can expect some time spent getting to know one another. We will also work on furthering your understanding of the counseling process as well as determining specific goals that you hope to accomplish during your counseling journey. I will work collaboratively with you to work through the issues that caused you to seek counseling, and together we will determine how to foster positive change and growth.