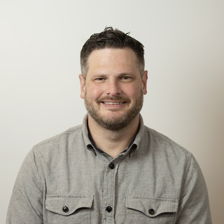 Billy Robinson, MDiv, MA, LPC
Phone: 616-426-9034, ext. 514
Email: brobinson@secondstorycounseling.com


MA Counseling - Cornerstone University
MDiv - Reformed Theological Seminary


My story and experience has shown me that life can be bleak, challenging, and overwhelming at times. Life can also be joyful, life-giving, and hopeful. Holding tensions is a major facet of who we are as human beings. Often feeling in crisis on this journey, trying to balance our approach, and maintaining contradictions of brokenness and wholeness. My own journey has reflected much of this- in many ways I have suffered indescribable trauma; while in others I have experienced life altering joy. Each journey is incredibly unique and complex, and as human beings we have an innate desire to navigate our stories with the love, support, and friendship of others.
My passion as a psychotherapist is to come along side you as a "fellow traveler," enter into your story, and hold tensions with, and for you, as you navigate the brokenness, crises, challenges, and hurt of your heart, mind, and life. A favorite author and Psychoanalyst of mine says "when we wait in the unknown, transformation will occur." My hope and ambition is to wait and navigate the unknown with you, in order that together we can experience positive transformation and reconciliation.
When I'm not seeing clients I'm usually spending time with my wife and son! We love to spend time outdoors (fishing is preferred), playing baseball, or sitting around a bonfire. I love to read, I love movies, comic books, and Michigan State Basketball! But above all, I love my vocation as a counselor!

My Approach
While I definitely approach counseling through a multi-disciplinary, and multi-intervention framework; I do mostly come from the Psychoanalytic tradition, which places a heavy emphasis on the complexity of each individual's mind, and how that complexity relates and connects to the individual's story. I emphasize both the person-centered, and narrative approach with each client, understanding first and foremost that no two people are alike, and that the beauty of each individual's complexity is sacred, and ought to be navigated and explored with great care and competence.
The early sessions will focus mostly on me getting to know your story, your context, and building a strong therapeutic alliance. In later sessions we will begin to integrate interventions and strategies designed to help you identify incongruences in your identity and conscious framework. We will work together to uncover all that exists in your unconscious mind, and reveal those areas of your life that need to be processed, reconciled, and given hope and meaning.

What you can expect
Unconditional positive regard is a staple of the counseling profession; and one that I take very seriously as a Psychotherapist. Your identity, your personality, your experiences- Your Story, are sacred to me, and I can promise you, that every facet of who you are and the vulnerability that you bring into the counseling context will be treated with the utmost respect, dignity, and compassion. I will work effortlessly to provide you with a safe space in which you can process your story, hold these tensions together, and wait in the unknown for transformation to occur.
As your counselor, I will commit to always holding hope for you, as you persevere in your therapeutic journey.